Duty of Care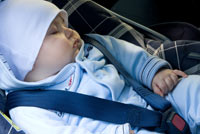 Any organisation or individual who carries other people's children has a legal duty to ensure they carry them safely.
Every year thousands of children are killed or injured while travelling in cars in Great Britain. Many of these deaths and injuries would be prevented if children travelled in baby seats, child seats or booster seats that are suitable for their size and weight and are securely fitted.
Seat belts on their own are less effective for children because they are primarily designed for adults. In a crash, a child may slide under an adult belt because the lap strap is too high over their abdomen, or the belt could cause serious injuries to the child.
As part of its health and safety system, any organisation that transports children must ensure its drivers are fit and competent, vehicles are safe and suitable, passengers are carried safely, and journeys are properly planned. Further advice on these issues is available at www.rospa.com/roadsafety/resources/employers/.
Providing Child Car Seats
Organisations or individuals who carry other people's children in cars, vans and other goods vehicles must make sure they use appropriate child car seats (See Types of Child Seats and Choosing and Using Child Car Seats sections of this website for more information) for each child carried until s/he is able to use a seat belt on its own.
Child restraints are rearward facing baby seats, forward facing child seats, booster seats and booster cushions. See Types of Child Seats for details. Different rules apply in buses/coaches (See the Other Vehicles section).
If you do not normally carry children, but know that, on occasion, you may need to do so at short notice, consider how you can make arrangements to provide child restraints in such situations.
If you use other people's child seats, get them to talk you through the manufacturer's instructions and show you how to fit the seat first, so that you are sure you can fit it correctly.
If your organisation regularly transports children, consider buying a number of different seats which are compatible with the vehicles you use, and the age and size of the children you carry.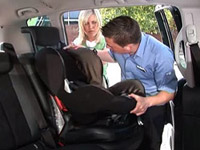 Training
Staff need to be trained to assess that the child car seats provided are appropriate for the child and the vehicle, and to fit them correctly, or at least check they are correctly fitted. Some child seat manufacturers and retailers provide training and/or will check seats (See the Links section).
The Road Safety Unit of the Local Authority may be able to offer training or a seat checking service, or recommend other training providers. Some also run Child Seat Check days at local venues, such as Supermarkets.
Insurance
Organisations should inform their insurers in writing that they carry children in their vehicles, and keep a copy of relevant paperwork with their insurance documents. If a member of staff uses their own vehicle to carry children for the organisation, that person must declare this to their own motor insurer.