Transporting Children In Campervans
Does my child need a child car seat when travelling in a campervan?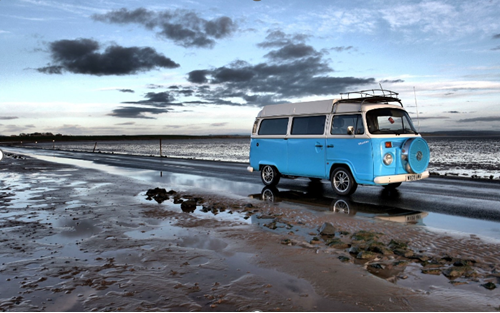 Yes. The law requires all children travelling in the front or rear seat of any car, van or goods vehicle must use the correct child car seat until they are either 135 cm in height or 12 years old (which ever they reach first). After this they must use an adult seat belt. There are very few exceptions.
It is very important to ensure that your child travels in an appropriate child restraint, which:
Conforms to the United Nations standard, ECE Regulation 44.04 (or R 44.03) or to the new i-size regulation, R129. Look for the 'E' mark label on the seat.
Is suitable for your child's weight and size.
Is correctly fitted according to the manufacturer's instructions.
However, given that not every child car seat is compatible with every vehicle, we would recommend checking the compatibility advice for the seat or speaking to the manufacturer of the child car seat you would like to use to ensure that it can be safely used in your campervan. The manufacturer should be able to confirm whether the seat can be used and in what seating positions it can be fitted.
Can my child travel in the front passenger seat of the campervan?
If there is an available rear seat where you child can sit and a car seat can be fitted, we would advise your child travels in their child car seat in the rear instead. However, children may, dependent on the seat they are using, be able travel in the front seat, in a compatible child car seat.
If your child travels in a rearward facing seat, you must not put them in the front passenger seat if there is an active airbag, this is illegal and dangerous. If the airbag deployed it would strike the seat with considerable force. To safely transport a child in a rearward facing car seat in this seat, the airbag must be turned off.
For older children travelling in forward facing seats, we recommend moving the vehicle seat as far back as it will go on its runners so that it is outside of the deployment zone of the airbag.
My vehicle has side-facing seats, can a child car seat be fitted in these seats?
No., child car seats cannot be fitted to side facing seats.
Children must not travel in the back of a campervan if the seats are sideways facing, even if they wear a seatbelt or travel in a child seat. Research has found that seatbelts offer very little protection in the event of a collision when fitted in sideways facing vehicle seats.
In order to fit a child car seat, the seat will need to be either forward or rearward facing and be fitted with a full three-point seatbelt. You must only use a child car seat if your car's seat belt has a diagonal strap, unless the seat is either:
specifically designed for use with a lap seat belt
fitted using ISOFIX anchor points
Can I fit an ISOFIX child car seat in my campervan?
Some newer campervans now have ISOFIX points fitted. If your campervan has seats equipped with ISOFIX points, a compatible ISOFIX child car seat can be fitted in line with the manufacturer's instructions if it is compatible with your vehicle. Check with the seat manufacturer whether the seat is compatible and in which positions it can be fitted.
The seats in my campervan only have lap belts. Can my child travel in these seats?
If there is an available seat in the campervan with a three-point seatbelt, we would recommend that your child travels in the appropriate car seat in this seat instead. We would not recommend that children travel in seats with lap belts.
It can be very difficult to find a child car seat that can be used with a lap belt, as the majority of seats are designed to be used with a three-point seatbelt only. Check the instructions of your child car seat to see if it can be used with a lap belt. If it is designed for use with a three-point belt only, it cannot be used in a lap belt vehicle seat.