Improve Your Driving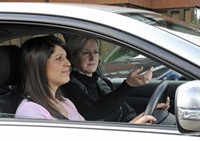 We could all benefit from an objective assessment of our driving, no matter how experienced we are. People often feel the need to review their driving when their lifestyle or personal circumstances change. A new baby can often make parents, grandparents and other carers look at their responsibilities as a driver in a different light.
RoSPA's Driver Assessments provide an easy and low cost way for drivers to receive an objective and professional assessment of their driving skills.
It is an honest, objective assessment of your driving. The Experienced Driver Assessment has been developed to identify your strengths and weaknesses behind the wheel and to help increase your confidence on today's busy roads.
It is not a test, so you will not feel under pressure.
Who is it aimed at?
New parents
Anyone who has recently become a parent, but is feeling nervous about the added responsibility of having their baby in the car.
Inexperienced Drivers and change of circumstances
Drivers who passed their test a while ago, but do not have much experience on the roads, but whose circumstances have changed so they now need to drive more often.
Older Drivers
Drivers who have been driving for many years, but want re-assurance that they are still capable behind the wheel.
Young and Novice Drivers
Drivers who have recently passed their test.
Any Driver
Anyone who wants some reassurance about their driving.
The assessment takes place in your own car and lasts for around one hour. It is conducted by a RoSPA Examiner who will contact you to arrange a date and location. Following the assessment you receive practical suggestions on how driving skills could be improved, a confidential written report reviewing your driving and a certificate of completion.
For further information and details of how to apply for the assessment, please visit www.roadar.org/drivers/driving-assessments.htm or call call +44 (0)121 248 2127.
You could also join a local driving group, such as RoSPA's Advanced Drivers and Riders.
At the very least, read the latest edition of The Highway Code - it's probably changed since you last read it. It's available from good bookshops or free online at www.gov.uk/highway-code.
More advice on safe driving is available at in www.rospa.com/roadsafety/resources/drivers/.