Safe Journey Tips
Great Britain has one of the best road safety records in Europe and the world. Despite massive increases in traffic over the last few decades, the number of people killed on our roads has fallen from around 5,500 per year in the mid 1980s to under 1,700 now.
However, this still means that five people die on Britain's roads every day.
These figures are for road accidents which were reported to the police. Although virtually all fatal road accidents are reported to the police, it is known that many thousands of crashes involving injury are not reported, even when some of those involved required medical or hospital treatment.
Most road crashes are caused by basic driver errors, such as not looking properly or being careless. As a driver, there are several, simple steps you can take to reduce the risk of you and your family being involved in a crash.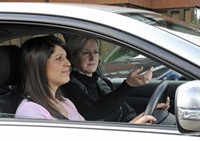 On every Journey:
Watch your speed
Leave plenty of room around you
Leave plenty of time for your journey, so you're not stressed or tempted to speed
Don't do other things that will distract you (like using a mobile phone) while driving
Don't drink and drive, and avoid medicines that make you drowsy
Don't drive while tired - plan long journeys to include rest breaks
Make sure:
Your child is using a suitable child car seat or seat belt.
The child seat is securely fitted - check every journey.
The child locks on the car doors are activated
You wear your own seat belt - set a good example
Your head restraint is correctly adjusted.
Could you improve your driving?
We could all benefit from an objective assessment of our driving, no matter how experienced we are. To see how your driving has changed over the years since you passed your driving test, you could:
More advice on safe driving is available at in www.rospa.com/roadsafety/resources/drivers/.